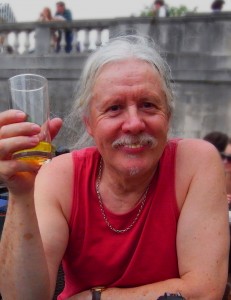 I am a British Association for Counselling and Psychotherapy (BACP) accredited counsellor/psychotherapist. I work in private practice, mostly in offering clinical supervision, although I do occasionally see private clients. For four days each week I am employed as a bereavement counsellor and bereavement counselling trainer at Saint Catherine's Hospice, Scarborough, In the north of England.
Where I work
Scarborough is a costal holiday resort, with two sandy bays and a medieval castle overlooking the sea and the town. Saint Catherine's Hospice is a small distance inland on the edge of town, on the site of an old farmhouse. We have woods and pastures behind us and a view over the town, past the castle and far out to sea. It is a wonderful place to work. The hospice serves an urban and rural population of 250,000 spread over a wide area, which includes fishing towns and villages, market towns and moorland villages. The hospice Bereavement Support Service sees people mourning a death for any reason, including the death of hospice patients, which make up about 3 in 10 of the people we see. Over 400  people are referred to the Bereavement Support Service annually. Our clients are seen for an average of ten sessions, although some need long-term support whilst for others, one or two sessions is enough.
Background
I left grammar school in Cambridge at 17 without going into the sixth form. For a few years I was a laboratory technician, before a mentor  to whom I will be eternally grateful, encouraged me to go back into education. I went to college in Northern England and in 1973 gained an honours degree in education from the University of Sheffield. I was a primary school teacher for 15 years, during which time I gained an M.Sc in education from Sheffield Hallam University. From 1988 to 1997 I was a Senior Lecturer in Education at Leeds Metropolitan University. I completed counselling training between 1994 and 1997 and qualified with a Higher Education Diploma in therapeutic counselling from Leeds Metropolitan University. After some initial part-time work in student counselling I gained my current post in 2000.
I met my wife Sandra in 1998 and we married in 2000. We both have grown-up children from previous marriages. I have three grandsons.
My interests
I have pursued a parallel career as a musician for about 50 years, although now it has become a hobby and a way of unwinding. I also enjoy photography,  with passion but without very much talent. I enjoy writing, and the imminent publication of my first book is the fulfilment of a longstanding dream. I would like to follow this with a small pocket self- help book for grieving people, which is evidence-based, and neither religious nor spritual.
Caseload
On a typical day I will see four or five bereaved people each for one hour. Some will be for an initial session to assess their needs, and the majority with be part of my caseload. Clients may have been bereaved for any reason, including suicides, accidental deaths, homicide or natural causes, some of which will be sudden and unexpected deaths. Clients may have been bereaved of a friend, parent, child, sibling, partner or other relative. Every death is unique and every reaction to that death is unique.
Research
There is credible scientific evidence that bereavement counselling has limited efficacy, in particular with clients grieving normally but who have been routinely offered the support of a talking therapy. Even where clients have slightly more complex grief, and self-refer, improvements attributable to counselling may be temporary. The more severe and complex a person's grief, the more likely it is that counselling will be demonstrably effective. Such arguably counterintuitive results come from quantitative studies. My qualitative research, a PhD program at York St John University, is looking closely at the process of change in clients receiving bereavement counselling. Each session is digitally audio recorded and analysed for moments of assimilative or accommodative change. I hope to complete this part-time program during 2016 or 2017.
Teaching
Coming as I do from an education background, it has been almost inevitable that I would end up teaching again. For a few years I taught counselling and counselling skills in further education colleges, before coming to specialise in bereavement counselling. I teach volunteers and health care staff at Saint Catherine's Hospice. I also teach at Hull and York Medical School. Every one or two years my colleagues and I deliver a modular course in bereavement counselling skills, taught to university standards with formally marked assignments.
My forthcoming book
My book, Supporting People Through Loss and Grief: An Introduction for Counsellors and Other Caring Practitioners, is published by Jessica Kingsley  Publishers in December 2013. It draws on the many teaching notes I have written over the past few years, although the book was written between June 2012 and June 2013. All the royalties go to Saint Catherine's Hospice patient care.
Contents: Introduction. 1. The Nature of Grief. 2. Theories of Grief: Historical Perspectives.  3. Attachment Theory: How it Relates to Loss. 4. Counselling Skills: Theory into Practice. 5. Working with People Experiencing a Loss. 6. Families and Grief. 7. Working with Difference. 8. Clinical Assessment in Bereavement Support. 9. Personal and Professional Development. References. Index.
ISBN: 9781849053761  £18.99   $29.95